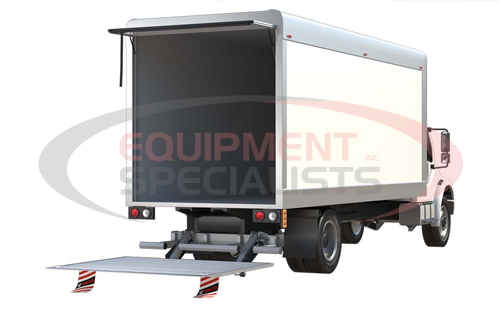 Waltco Liftgate HDC Series
WLHDC
WLHDC

Waltco Liftgate
A heavy duty cantilever lift with a lifting capacity of 3,300 and 4,400 lbs.

An advanced and yet robust design makes this the top line choice for all heavy vehicles wanting to maximize uptime. Comes with a galvanized high strength steel frame, a lightweight, corrosion resistant aluminum platform, offering a 40" load center designed for maximum stability.

The platform can replace the vehicle rear door of the body which saves time for the operator, keeps goods safe, and minimizes up-front costs and door maintenance.

- Dual tilt, gravity down lift cylinders, and electrical autotilt for reliable loading and unloading in all conditions.
- Aluminum platform with cart stops as standard help keep loads sturdy and drivers safe.
Please contact us for more information about this product.
Request a Quote
---
---
Share this product:
---
Waltco HDC Series Specifications
Structural steel construction with zinc prime & powder coated finish
interior body widths are 88″(EXT) & 87″(INT) and exterior width is 96″
Interior height is 72″ high
Floors are constructed of 10GA steel sheet with 3″ structural channel on 16″ centers
Posts are constructed of 12GA steel sheet; exterior posts are 5″ formed posts on 36″-48″ centers, Interior posts are 3″ structural channel on 16″ centers
Top rails are constructed of 3″ x 3″ x 1/8″ square steel tubing
Rear corner posts are constructed of 7GA steel
Roofs are constructed of 12GA steel with a 6″ peak
Lockable security-style doors with 3″ x 3″ supports
Standard 6″ steel ground rollers